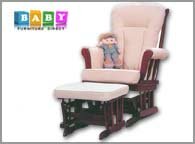 There is nothing that strengthens the bond between parent and baby than time spent together in a baby rocking glider chair. Not only will the rocking motion relax your baby making it much easier for them to fall asleep, but it will also calm you as a parent which is something that your baby will able to sense when in such a close proximity to you. Many parents can tell you that it is much harder to get your baby to fall asleep or drink if you are tense yourself as babies are very sensitive to their surroundings. Quality time does not necessarily mean that you need to spend money on some classes or exercises for you and your baby. Just being close to you and having physical contact will already mean the world to your baby, not to mention the mesmerizing effect the motion of the baby rocking glider chair has.
The baby rocking glider chair from Baby Furniture Direct comes with an Ottoman that glides with the chair, allowing you to put your feet up to experience a truly relaxing full body motion. As the ottoman is completely separate from the chair itself, it can be moved around to accommodate your length. Both the chair and ottoman is very sturdy as it is built from solid wood, with a plush padded upper to provide super comfortable seating supporting your neck and back.

The baby rocking glider chair has come a long way from the original creaking one our grandmothers used to have. This rocking motion is built into the chair framework itself, leaving the base of the chair flat and steady on the ground, without the worry of the chair rocking to far back and falling over. Luckily when it comes to the design of the baby rocking glider chair it is simply timeless. Whether your baby's nursery has a vintage look or is completely modern, the chair will fit in perfectly. Thanks to the baby rocking glider chair not being time defined, this piece of furniture can easily become a family heirloom that can be passed on from generation to generation to come.
If are still on the fence about purchasing a baby rocking glider chair, why not come to the Baby Furniture Showroom in Sandton, Johannesburg to see the product for yourself. Here our trained staff will be able to assist you in any questions you may have regarding the baby rocking glider chair itself or even what other furniture to pair with it.
Where to shop for the best baby rocking glider chair in South Africa

,
Related Posts :