Phone us at 011 262 0221 for detailed information about our sought after brands of designer baby furniture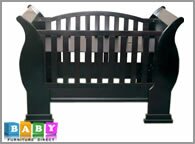 You want the best for your baby, right?  You will obviously then not to spare any expense when it comes to the baby nursery and all additional details such as clothes, toys, ornaments and bathing products.  You are also more than likely to have a stylish, modern home and would prefer to have your nursery be designed in such a way that it carries through the theme of the interior of the home.
Is it not a pleasure to know that there is a designer baby furniture outlet that imports the best and most reputable brands available?
We at baby Furniture Direct have come to the realization that the need for more modern, hip, exclusive yet affordable baby furniture items and had started to import designer baby furniture, making us one of the first baby furniture suppliers to expand our clientele base.  As well as stocking our own range of superior baby furniture, we are proud to also stock full ranges of designer baby furniture and other brand products such as Stokke and TFK.
Known worldwide as some of the very best names in designer baby furniture, these imported ranges boast with some of the most innovatively designed features available on the market today.  Ranges are also comprehensive, including every single item of designer baby furniture you will need, as well as possessing a few innovations that you might have only heard about.
Affordable & modern baby furniture products
Designer baby furniture ranges include cots such as the Sleigh cot, Eve cot, Moses baskets, rocking breastfeeding chairs, multi-functional prams as well as all clothing, bathing products, toys and ornaments all designed specially and adapted to the theme of the designer baby furniture, to make for a "baby magazine" picture perfect end result.
As we keep our staff members up to date with the latest technology in designer baby furniture and accessories, leave it up to us to put together a nursery design that will be perfect for your size and shape of nursery, while considering your budget, tastes and preferences at the same time.
Our reputation of being one of South Africa's most sought after suppliers of baby nursery furniture has just been improved by us introducing our beautiful ranges of designer baby furniture into our showrooms.  Give our offices a call today and one of our friendly representatives will assist you with your baby furniture needs.
Designer baby furniture for the modern mom & dad

,
Related Posts :